One Shepherd Uniforms
Warrior Leader Program
One Shepherd is a Warrior community with more than 30 years of tradition. We've earned our uniform and take pride in our traditions. All members are required to maintain and wear their uniforms in proper keeping with One Shepherd standards. The One Shepherd uniform begins with the regimental shoulder patch that symbolizes our Warrior community.
Two Uniforms are Required!
Uniforms are a Warrior responsibility (e.g. you will purchase these items). You need both, the OPFOR and BLUFOR uniforms. Insignia is not required the first semester, but afterward insignia is a uniform requirement.
Our uniforms also have a critical function beyond that of organizational identity and tradition. One Shepherd is a force-on-force training environment. This means that two teams engage each other. Each team must not only be able to identify their opponent, but also must identify their own teammates in the midst of battle. To do so is difficult under the best conditions. Now add smoke, dense vegetation, rain, snow or nighttime conditions to the emotional and fast-moving battle simulation. The task of identifying friend or foe is incredibly arduous.
Note: For current members ad new alike, there is no longer a relaxation of policy for "field uniforms" – this includes the FTX.  The uniform requirements as outlined here apply for all activities.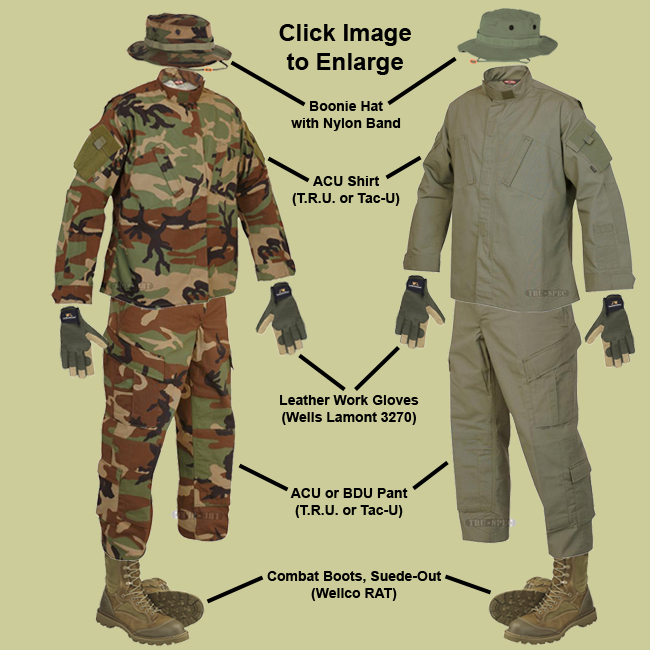 Uniforms are described in camouflage COLOR pattern, CUT pattern, and CLOTH material.
BLUFOR Uniform
COLOR: Type I Woodland, 4-Color
CUT: ACU Shirt, ACU, BDU, or other cut Pant , and Boonie Hat with webbing loops
CLOTH: "Ripstop" in 65/35 Poly-Cotton, or 60/40, or 50/50 Poly-Cotton blend
Note: If wearing other cuts of pant, the color and cloth must be nearly indistinguishable from the shirt.
OPFOR Uniform
COLOR: Olive Matt Green, Solid
CUT: ACU Shirt, ACU, BDU, or other cut Pant, and Boonie Hat with webbing loops
CLOTH: "Ripstop" in 65/35 Poly-Cotton, or 60/40, or 50/50 Poly-Cotton blend
Note: If wearing other cuts of pant, the color and cloth must be nearly indistinguishable from the shirt.
Rain Parkas
Each warrior also needs two parkas, one in each color pattern. The USGI woodland parka can be found new or used in excellent condition at affordable prices online or in a local surplus. The OD green parka can also be found affordably online. The best prices can be found for the Rothco brand "GI-Type Parka," or the Atlanco "Olive Drab Gen 2 Parka," or the Condor Tactical "Summit 609" soft shell lightweight jacket in solid OD green.
BLUFOR = Woodland; OPFOR = Solid OD Green
Gore-Tex, Microfiber, or PVC material
Combat Boots
The same pair of combat boots is used for both uniforms. A boot is described as footwear that is high enough to cover the ball of the ankle. Lower than the ankle is inappropriate. Boots must be subdued in color with a preference towards suede-out medium brown.  Sand colored boots must be dyed brown.
Popular brands and styles include:
• Altama Desert Boot
• Bates Dura-Shocks Boot
• Bellville Infantry Combat Boot
• Matterhorn USMC Mojave Olive Desert Boot
• Danner Desert Arcadia Boot
• Danner USMC RAT Combat Boot
• Wellco USMC RAT Combat Boot
• Wellco Infantry Combat Boot
Duty Items
The following uniform items are highly recommended and should be purchased in solid olive green color whenever possible:
• T-shirts, short/long sleeve in either crew and/or turtle neck
• Thermal layers in polypropylene, Merino wool, or wicking silk
• Boot socks in wool, wool-cotton blend, or wicking fiber
• Duty pant belt or Rigger belt in OD green nylon
• Knee pads in OD green nylon foam and plastic
• Work gloves, leather palm or similar (example: Wells Lamont Model 3270 in OD green)
• Eye protection goggles or glasses (required for inspection)
Insignia Duty Uniforms
• Subdued "J. SMITH" nametape, black thread, olive tape (available here)
• Subdued "ONE SHEPHERD" tape, black thread, olive tape (Same as above, they typically allow you to include 1x of this tape above the 3x nametapes as they set up the machine for thread and tape and don't really care what is printed on it – they just want a minimum of 3x of that configuration)
• Subdued reverse US flag (or your country of origin), black and OD green (available here)
• Medical patches such as blood type, allergy, or qualification are optional and must be subdued and worn on the right shoulder below the country of origin
• Subdued 1S Regimental patch, black and OD green
• "One Warrior, One Leader, One Shepherd" tabs
Note: No other patches or insignia are allowed to be placed on the uniform.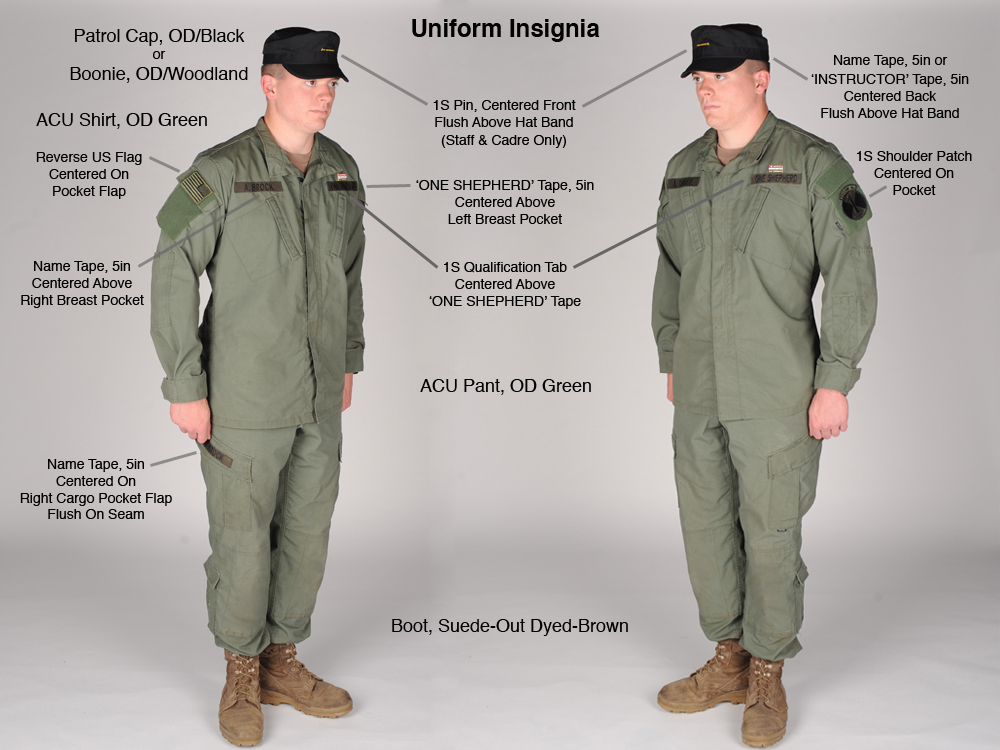 Optional Uniform Items
The One Shepherd community uses a couple of clothing items as part of our uniform for promotional reasons – and these items are the ONLY parts of the uniform that may be worn either with our uniform OR with civilian clothing!
• Fleece jacket, Alpine green/black with insignia
• Polo shirt, yellow, short/long sleeve with 1S embroidery
Insignia comes in either subdued (black and green) or dress (full color) options. For the BLUFOR and OPFOR uniforms subdued insignia is used. Dress insignia is for the optional fleece jacket.
The 1S Regimental Patch and metal tabs are purchased through One Shepherd after completion of the WBC. Nametapes, 1S tapes, and reverse flags are purchased online through www.1800nametape.com.
Insignia Fleece Jacket
• Dress "J. SMITH" nametape, gold yarn, black tape
• Dress "ONE SHEPHERD" tape, gold yarn, black tape
• Dress reverse US flag, red, white, blue
• Dress 1S Regimental Patch, full five colors
• "One Warrior, One Leader, One Shepherd" tabs